The Hedera Helix Homepage. Interested in Ivy? This is must be your first stop. In particular English Ivy. It is unbeatable in the garden and in the home.
---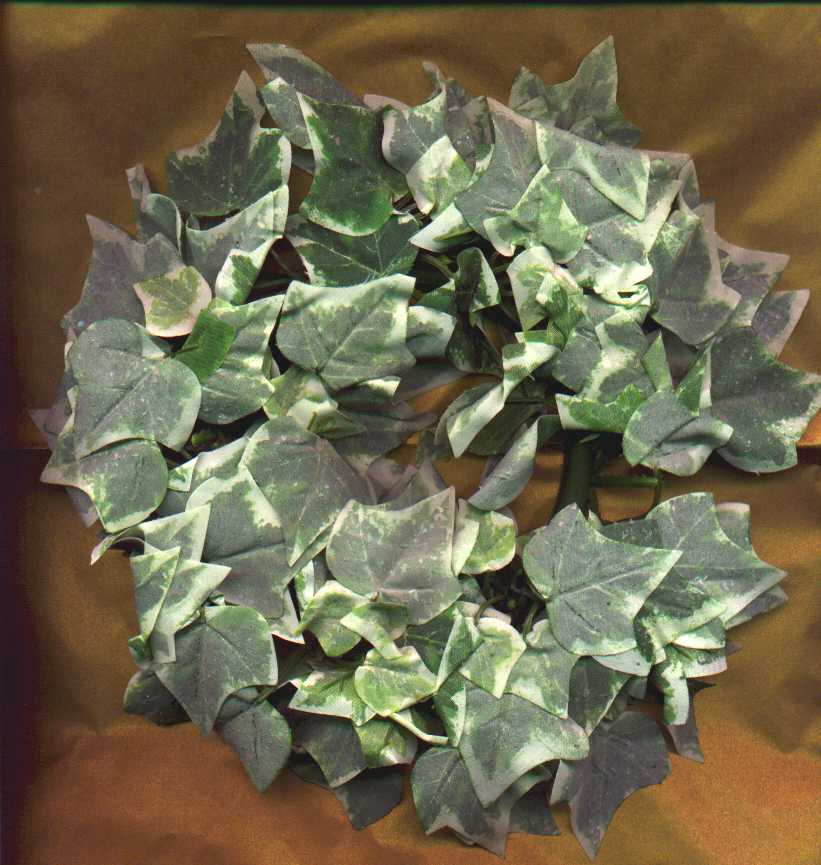 Stone me! It's...
The Eastcheam

Sponsored by Grimsby Pilchards
'Eat more pilchards'
---
This site has been voted:
Worst Plant orientated website 2002' by Internet Gardener Magazine
'Most out-of-date UK web site 2001' by Inland Waterways and Canal Enthusiast
Slowest site to download' Horticultural Broadband Monthly October 2002
---
Ground cover, climber, houseplant, primitive spirit, hardy survivor, three number one singles in Germany, an HND in Robotics....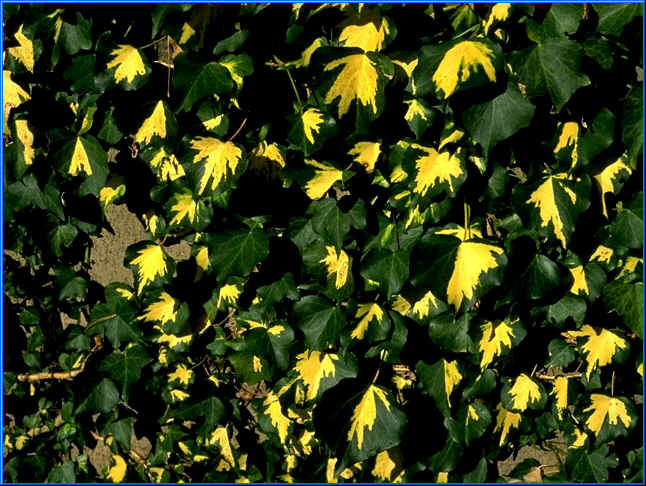 Hedera Helix Goldheart
Picture from the CD-ROM version of Encyclopaedia Botanica (Random House, Australia), that has a commendable section on Ivies.
---
New! visit BOGUSPLURALS.CO.UK for the best in bogus plurals
---
Ivy Fans of the month.
The following people have well known associations with Ivy: Harold Macmillan, Kathy Staff and Jim Bowen.
Reminder:
Fibrex
are now on-line. Go to
http://www.fibrex.co.uk/
---
-------------------------------------
You, dear reader, are visitor number
to my lovely world of Ivy.
www.eastcheam.co.uk
What a wonky hitometer!
Apologies to Curtis of Curtisville for decrying Virginia Creeper/Boston Ivy as bogus. It's still a fine plant, just not an ivy, that's all.
Invigorate with Ivy.
Ivy: Loathe it or ignore it, you just can't kill it*
* As several people have emailed to tell me this isn't always true - especially outside England, but the point still holds!
Did you know the oldest ivy colonies are thousands of years old?
Please note: This site uses non-standard nomenclature
---
Guest photo shot: This is from Grant and Helen from Wales, West of England.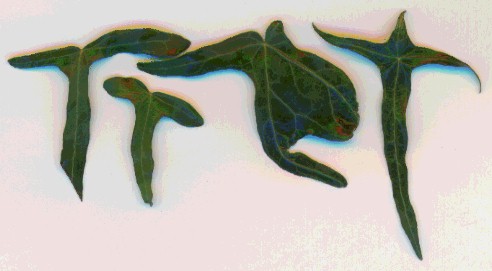 After looking around a bit, I reckon this must be Hedera Helix Bill Archer. It certainly has much of the 'birdsfoot' about its character. The closest other match I can see is Hedera Helix Koniger, which looks very similar, except that it has five lobes rather than the three prominent here! The leaves in the above picture remind somewhat of the cartoon characters, the Pathetic Sharks ((c) House of Viz).
Update: I have come across this unnamed specimen myself at a Garden Centre in Bedfordshire, the unfortunately named 'Frosts'!
---------------------------------------
Contents
Jersey Doris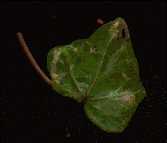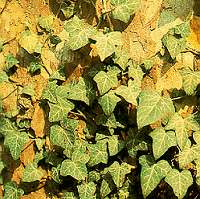 ~~~~~~~~~~
Hedera Colchicia Sulphur Heart
Hedera canariensis var. algeriensis 'Maringo-Maculata'
Hedera Helix Ivelace
Database
Well swipe me, welcome to the world's slowest loading Ivy-orientated web site. I've looked, but there is no other Ivy site quite as slow to load as this one. My particular slant is towards 'English Ivy' (Hedera Helix). I aim to update the site gradually and would be grateful for any stories, advice or photographs that you can offer.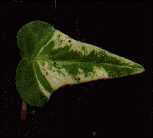 Resources:
(i) Peter Q Rose
Although always a secret Ivy fan it wasn't until planning my first garden that my interest took off. My copy of Peter Q. Rose's "IVIES" was never far from my birdcage. Without the inaccurately named Peter Rose, this site would not exist. If you share my love of Ivies buy the latest incarnation of his book if you do nothing else!
This is unfortunately now difficult to find, but you may still be able to get it from amazon.com and maybe from other web based book suppliers. You might be able to get the older version, but the latest edition is better illustrated and comes as a hardback.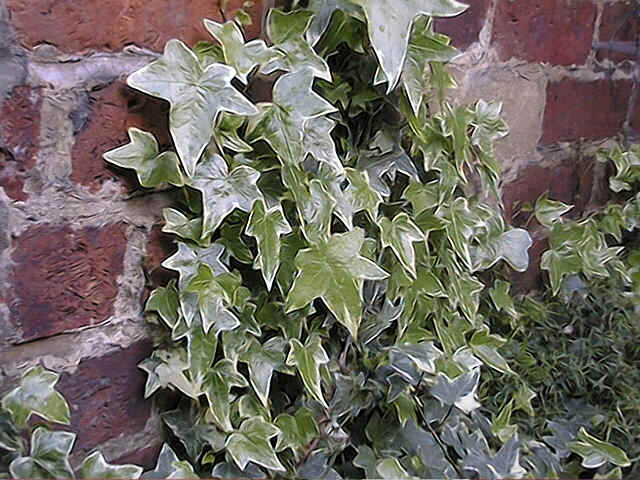 This book seems to be out of print.

(ii) Hazel Key
I bought the following book the day after visiting the excellent FIBREX near Stratford on Avon. The Author, Hazel Key, is the woman behind Fibrex! The book doesn't claim to be comprehensive, but has great photos, some useful tips, and can't be bad for less than six pounds!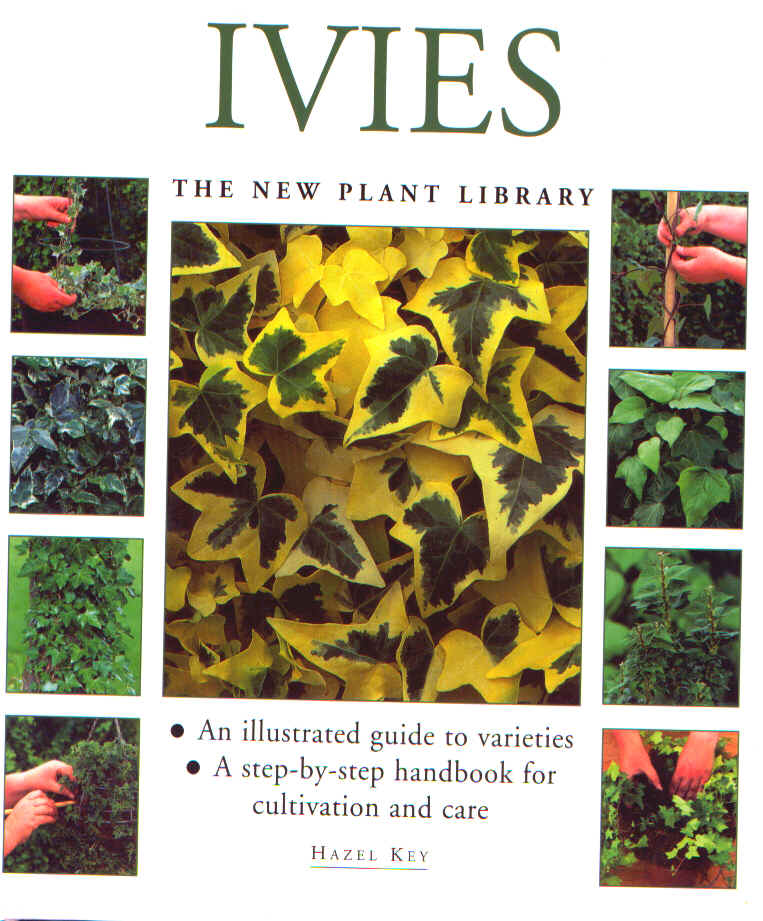 The book is The New Plant Library IVIES and is published by Lorenz Books.
Readers' Recommendations
Carol Stotler recommends "Green Thoughts - A Writer in the Garden" by Eleanor Perenji - Random House, 1981.
She says "A writer who gardens is sooner or later going to be overtaken by the desire to pass it all on." The book is a collection of unrelated essays she's written on everything from Bufo vulgaris (toads) to herbs to ivy to artichokes. She understands ivy; she's gone so far as to smuggle it to the U.S. from Europe. Wonderful reading. She was born of American parents: raised in China; India and all parts foreign; married an impoverished Hungarian prince and lived in "the shadows of the Carpathians" until the beginning of WWII. She somehow ended up gardening and writing in Connecticut.
And sorry to Carol for not responding to her emails.
Can you tell me what this ivy is below? It is available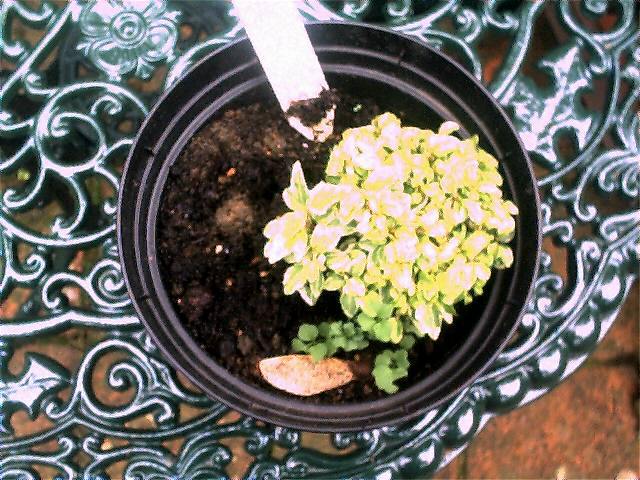 from Fibrex, and I've never seen it in the out-of-town Sheds
The last competition was won by Mrs. EMC of South Birmingham. She got it right with 'Buttercup'.
---
Christmas Time: Hedera Helix Multicorn
A fantasy ivy that seems to have seven lobes, each tending to a different shade of greeny-gold. It's slightly crinkly and makes a superb decoration. If you have any drawings or lithographs send them in and I'll put pictures up here.
---
The Ivy league
As the months have gone by, I've been choosing Ivies to hopefully inspire you. It hasn't always worked, mind. I got bored in 2000 and stopped it and my ISP changed the name of my server and so I couldn't update even if I'd wanted to. Over the period since I started, I've covered quite a lot of ground. Only another 600+ clones to go!
September: Hedera Helix Jersey Doris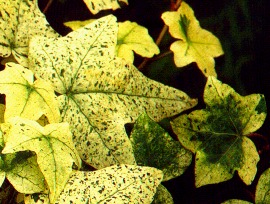 Jersey Doris unsurprisingly comes from the island of Jersey in the English Channel. Five lobes and fairly squat, it looks like someone's been painting the sky and the leaves have caught all the dribbles. Hazel Key recommends growing it up a wall, but note that the old leaves are far less spectacular than the new. Picture from Key, 1999.
August: Hedera Helix Cathedral Walls
A fine basic green ivy that gives good close cover on the ground and on walls. Hazel Key tells us in her book that it was used by the gardener at Washington Cathedral in the USA to cover the walls of that building. Cinque lobe with pointed fingers. An ivy-lovers ivy!
"it's certainly green"
July: Hedera Hiberica (Irish Ivy)
For a change, the Ivy of the month is not a Helix but Hedera Hiberica. This specimen grows on a wall opposite my Kitchen.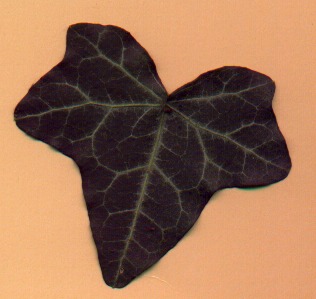 In the middle of the nineteenth century the plant was classified as Hedera Helix hibernica, after many years of taxonomical uncertainty. This name has been used up to relatively recently. It is now thought to be a species in it's own right. It is found all over the British Isles and the Irish Republic in church yards and hedgerows. You may mistake it for a richly veined Helix! Ideal in the garden as a splendid cover to unsightly walls. According to Rose, Edith Piaf is buried under it!
May: Hedera Helix Dragon's Claw
Dragon's claw has lovely curly leaves, yet will never be confused with a Parsley Crested or a Fluffy Ruffles. In fact the best description of it is that, er, it looks like a dragons claw. Vigorous, Hardy and fast growing according to Whitehouse and they are right! The picture is taken from the cover of an old Whitehouse Catalogue.
Also known as Curly-Q. It's a cracker!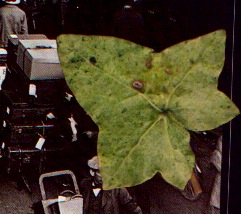 A lovely Ivy for spring. This ivy is yellow with green blotchings. Very cheering! Supplied by Fibrex
March: Hedera Helix Schafer Three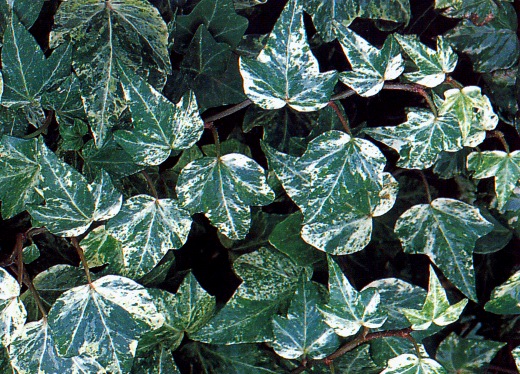 Taken from the name of its breeder. Version three (above) appeared in the mid 70s and is found everywhere as a pot plant. Often confused with Kolibri - I know I've done it myself! Blotchy and full of greens and creams it is a cultivar that gets noticed. Essentially a three-lober and more ground cover than a climber. Ignore those who say it is a house plant!
February: Hedera Helix Red Devil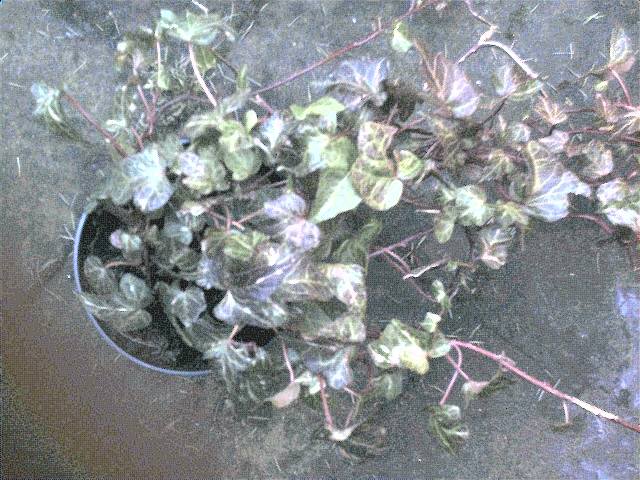 We have here a curious ivy that has a pronounced red tinge to the outside of each leaf, along with the green and cream veining. I recently bought this as an unnamed specimen. It's a bit scruffy but the colour could prove a useful contrast up a wall.
January: Hedera Helix Amberside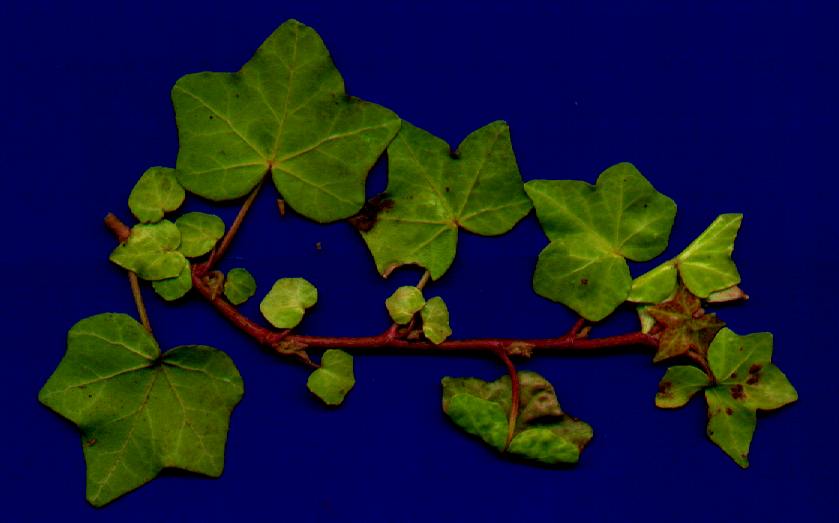 This is an Ivy from the massive selection at

Fibrex. It is actually much more lime green than the photograph suggests and the leaf size is quite variable, as you can see. It would be very useful where you want a bit of contrast, eg with an 'ivy green' plant like Pittsburgh or Chicago as, say, ground cover. It is a pretty quick grower, which might prove helpful if you want quick coverage.

December's Ivy: Hedera Helix 'Duckfoot'

Not very Christmassy (perhaps more of an Easter ivy), but rather engaging. It does indeed look like the foot of a duck!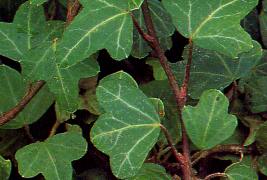 The clone was first isolated in 1976/7 in New Jersey (America!), and came to the UK in 1980. Often sold under different (and incorrect names). This is probably better grown indoors -it waddles about to no great effect outdoors.
November's Ivy: Hedera Colchicia 'Sulphur Heart'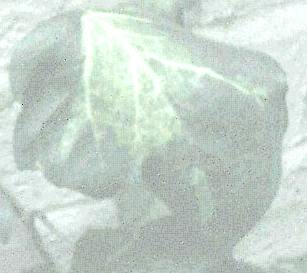 This month's Ivy is not a Helix; it's a more sensitive colchicia - a bit less hardy with large elephantine leaves. Commonly known as 'Paddy's Pride', it has marvellous yellow sulphur-coloured 'heart'. Just the thing for walls and fences that you need covering quickly. Tolerates a fair amount of shade.
October's Ivy: Hedera Helix Erecta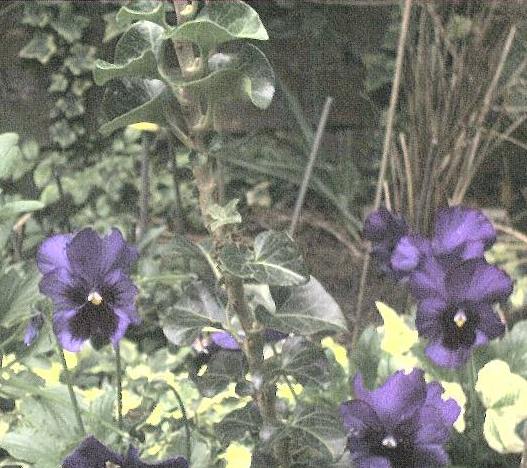 Last month I chose Congesta, and this month I chose another erect Ivy, again supplied by Fibrex. Erecta is a more vigorous plant than Congesta with larger leaves (three lobed and an inch by an inch). Erecta doesn't climb and has great uses as an architectural ivy. According to Peter Q. Rose, they do have arborescent shoots, which don't produce any flowers. However if you propagate from these you get a weird squat ivy often called humpty dumpty.
In the picture you can see that I've planted the ivy amongst some dark blue winter pansies. Very cheering in the coming months!
I find erect Ivies very strange to look at, but they do add interest to the ivy garden. September's choice is great in the rock garden and sits happily with alpines. All round an excellent architectural plant that won't normally grow higher than three feet.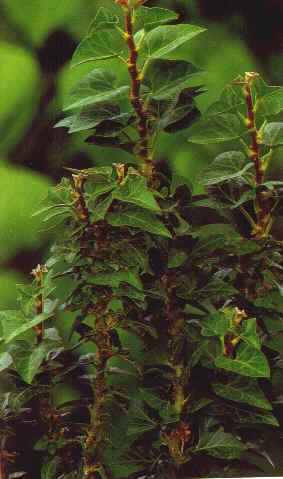 Another one you won't find down the sheds! Picture from Hazel Kay's book mentioned above
Hedera Helix Kolibri was August 1999s choice.
I still think that it's underrated. I know many dismiss it as 'supermarket' ivy, but crack yourself on, it does have some good qualities. Like will grow indoors and out, has such a fine 'splashed tricolour' variegation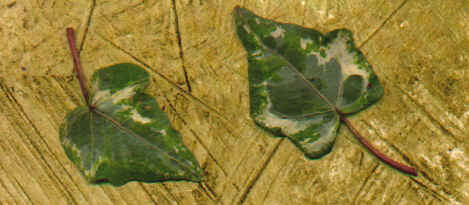 German for 'Hummingbird", and a variant from little eva (sans locomotion). Sold as a pot plant, but is pretty hardy outside. Fine for ground cover.
These two were both sold as Mint Kolibri. Aren't they different!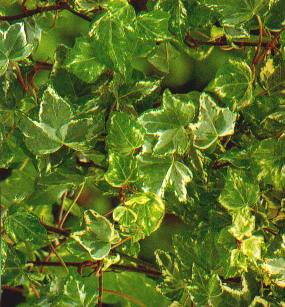 July's Ivy: Hedera Helix Tilsley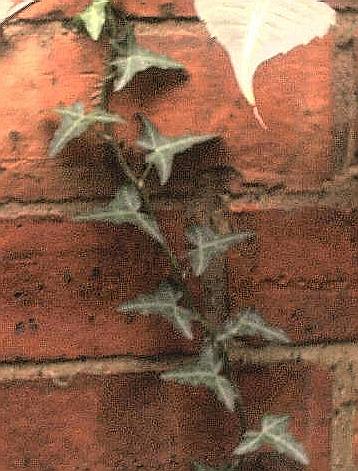 June's Ivy: Hedera Helix Jester's Gold
This vine-like ivy is quite variable even on one specimen. Some leaves are trilobate, and others tend towards the seven lobes. Jester's Gold is so called because of the resemblance of the leaf to a jester's tricorn. The variegation varies as well, as you can see! The more sun the plant receives, the more variegation.
I was rather suspicious of the name as the label proclaimed it as 'Jester's Gold tm'. This made me reach for my Peter Q. Rose. There is no entry for Jester's Gold in the index!!!
Still, whatever it's called it's rather different and a good climber.
This was May's Choice: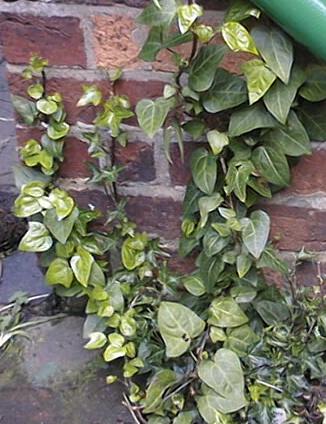 This Ivy is perfectly heart-shaped. It is a mid-green with noticeable veining. At the moment it will be rocketing and the new leaves are noticeably paler than the old. In the picture it is growing up a wall and is mixed in with some Ivelace. It can be unstable, and revert to a number of related variants. In fact it is a derivative of Pittsburgh via Star. Peter Rose notes that it has been known in America as Imp. Good for trailing!
Hedera Canariensis var. algeriensis 'Maringo-Maculata'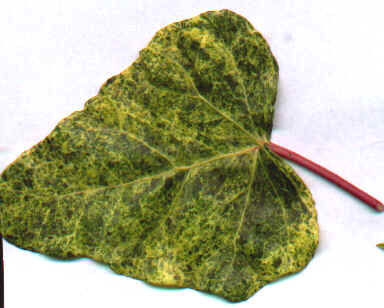 This was the ivy for the month of April. It is a big-leaf elephant Ivy. It goes under several other names such as HC A 'Marmorata', these are wrong! Interestingly the more common NC A 'Glorie de 'Marengo' can mutate into this stunner. Grow in a shaded, protected site as it can suffer frost damage if the temperature goes below minus four degrees. Great red stems, too.
Neither a particularly rare ivy, nor perhaps the most distinguished, but it is rather pretty. It is easily obtainable and doesn't half climb! Originally the cultivar was very weak, but a Danish variant proved much stronger. Mostly sold (as many ivies) as a houseplant, it will cover a low wall in a short space of time. Three main lobes, but two base lobes give it the look of a five-lober.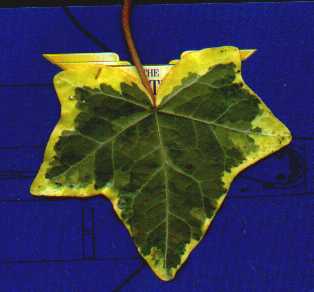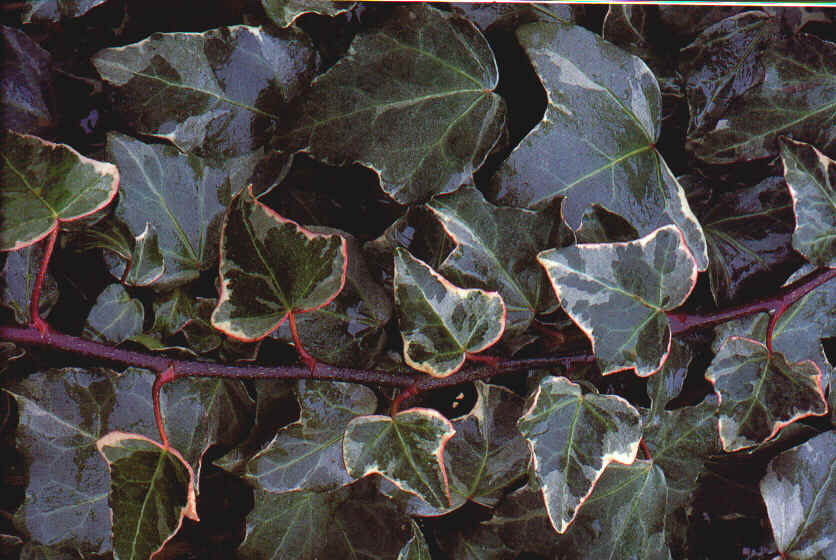 It's common as muck, but that doesn't stop it being good. Again often sold as a houseplant, but is a great climber. When the leaves reach the top they get bigger! This state of 'arborescence' means the plant has done its job! Dates from the 1930's. Climbs with no problem, a great three-lober.
Picture from Peter Rose's book (David & Charles, 1996)
January's Ivy….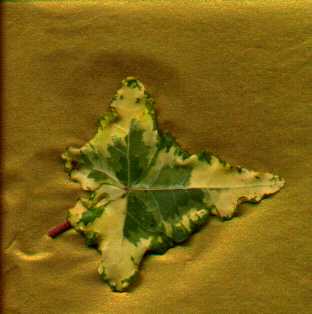 …

.was Hedera Helix Appaloosa.

Appaloosa is sold, as many Ivies are, as a houseplant. It will of course grow anywhere -in or out. It is also specced up to the eyeballs - look at the list: crinkles; multi-variegation; firm point and five lobes. It's got the lot especially for a dull January in the garden. The variegation is, in part, more of a flecking. This is really in the ground cover bag - you won't get it to climb.

A confession - I think this is Appaloosa, but I might be wrong. If you think I am, and can identify the specimen above, please let me know.

December's choice

: Hedera Helix Ivelace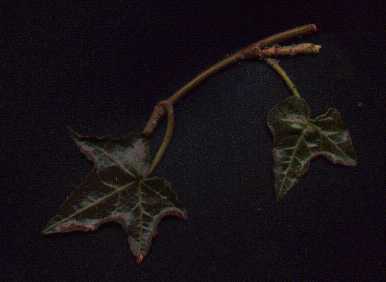 Yes, December's ivy of the month was something of a double monty! A fantastic dark green Helix, with prominent veins, a great Cinque Lobeé, and, of course that famous crinkle (ie the 'lace'). Unmistakable! Introduced to the world by Keith E. Williams (an American) in the 1950s. A sad indictment of this country is the dominance of American Ivyphiles in the twentieth century. The Victorian (British) love of Ivy, suffered from a violent reaction to all things Victorian after the Kaiser war

.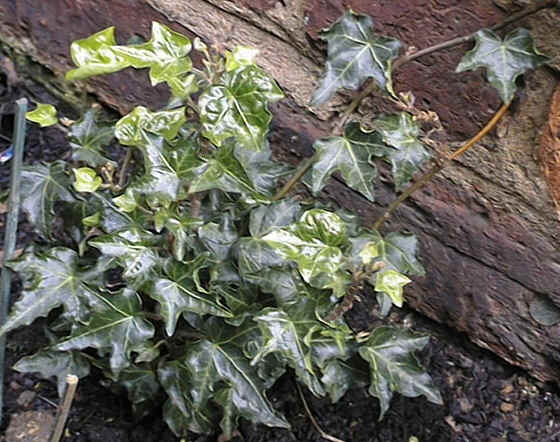 Ivelace in the garden. This specimen is less than a year old.
----------------------------------------------------------------
November's choice
In November my choice was HH Fluffy Ruffles. It's not obvious to everybody that this is an Ivy. The name is most descriptive and the leaves are distinctly crinkly.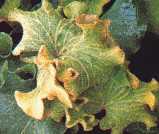 In some ways it's an extreme version of Parsley Crested. Peter Rose describes the appearance of the leaf as "pom-pom like" - that just about sums it up. Oh yes, don't try to get it to climb. It won't. Like just about all Ivies it's pretty hardy and deserves to be outside, although often sold as a houseplant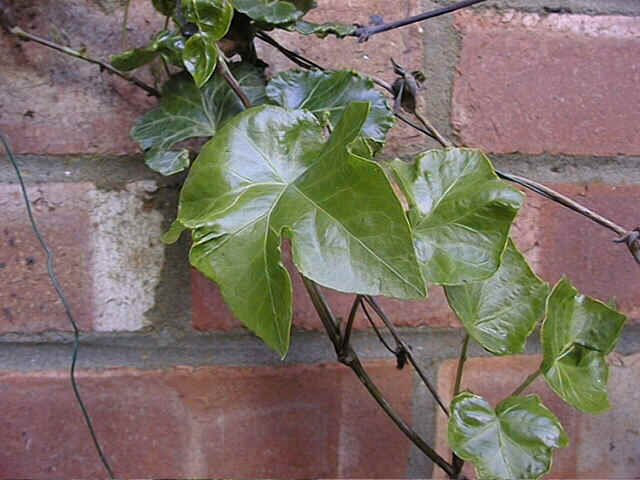 Here is a parsley crested with new growth giving a lovely fresh green tinge.
October's 1998s Choice

A fairly common sight these days (although the evil garden 'centres' seem to prefer to flog you Adam, Kolibri or Little Eva and their ilk before letting you near the real gems). It is superb. Nothing much can beat it in terms of variegation, although HC 'Sulphur Heart' can certainly give it a run for its money.
Like many HH clones and cultivars, Gold heart will grow just about anywhere. Transform a dingy shady wall with a £1.99 shed-bought Gold heart in just a couple of years. But! Be bold! Remove any sport that reverts.

Coming soon: A bit of a diversion -'near ivies'
---
Seasonal hint (if it's winter): Winter - Stay indoors and look at the Ivy from indoors

Don't forget to visit www.eastcheam.co.uk next month! You probably won't find much has changed, but it will give you something to do.

If you are down the sheds, check out any different cultivars that might appear. They tend to release different cultivars at different times over the season. If you think one is nice, snap it up! It might not be there next time. Alternatively, write off to

Fibrex or Whitehouse for a catalogue (see below).
---
Competition Time: November a few years back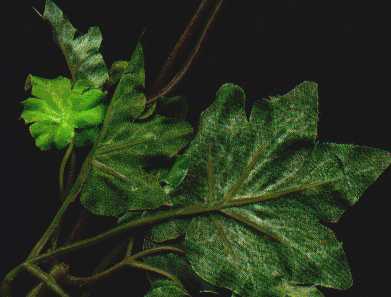 The question was "What variety/cultivar/clone is the ivy shown here?"
It was a trick question! It is a not-very-convincing plastic fake (supplier: Messrs. Poundworld ltd.)
I have a few requests asking where exactly I bought this. Sorry but the secret will never be revealed.

If you have any unusual specimens yourself (real or plastic!), sent me a JPEG.

Thanks to Abby Servant for sending me this HH Gold Ingot, which has grown very well as a sort of alpine. These Ivies are universally sold as a indoor pot plants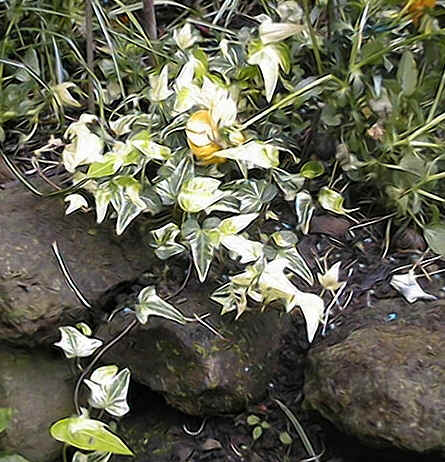 ---
Trivia Corner

Believe it or not there are more than fifteen different cultivars here. Conventional advice is to plant your ivies several feet apart, but this is boring. Instead, plant them close together, all cultivars mixed up and you get a stunning effect. Note that you might have to trim back the more vigorous variants.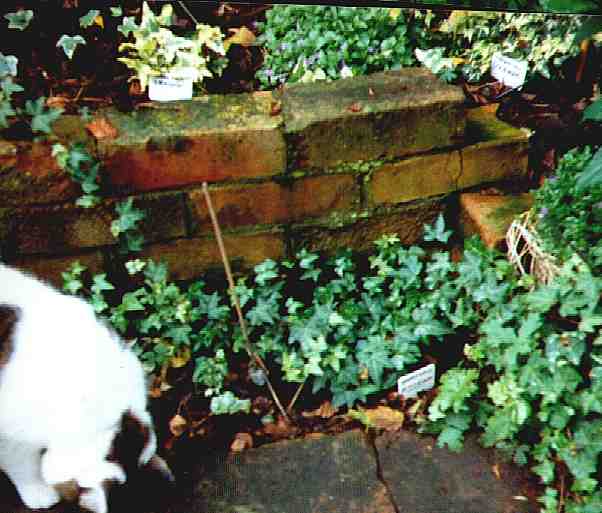 Removing a few tiles and planting a dark green vigorous variant such as Pittsburgh (as here) or Chicago can enhance an odd little corner of a paved area. Note the Ingot and Gold heart above the wall.


Suppliers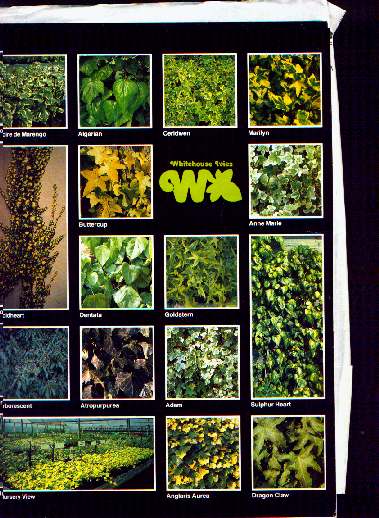 For a huge selection of Ivies, get in contact with at Fibrex Nurseries, Pebworth, Warwickshire, CV37 8XT. Ring 01789 720788. They have an excellent catalogue and operate a mail-order service. It really is worth visiting if you're in the Stratford area.

Fibrex now have a website at

http://www.fibrex.co.uk/ Ivy specific stuff can be found at http://www.fibrex.co.uk/hardycat/hederas.html. Although by the time you read thi, the links might be dead.s

Thanks to someone from Old Warwickshire for this information

Also worth a mention is Whitehouse Ivies, Eggesford, Chumleigh, Devon, EX18 7QU. Whitehouse used to have a nice catalogue as well, but I haven't used them for a few years so can't confirm that they still do.
---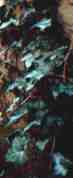 This web site is maintained by Steven Collis, Victoria Terrace, Northampton (UK!). I have removed my email address because of the spammers. If you really want to email me you can probably work out my email address!
Apologies to genuine people who has e-mailed me at the address formerly here, Unfortunately your mail may have been placed in the spam bucket.-
---
Last Update: 4 December 2002.
---
This site is sponsored by Grimsby Pilchards. Suppliers of Pilchard based products for over four decades. Many thanks to GP - visit
GrimsbyPilchards
Also many thanks to Bogusplurals
---
Newer photographs and revised colour scheme with help from Christmas Labs ltd.
---
eastcheam east cheam Steven Collis Ivy hedera helix collis eastcheam east cheam Steven Collis Ivy hedera helix collis eastcheam east cheam Steven Collis Ivy hedera helix collis eastcheam east cheam Steven Collis Ivy hedera helix collis